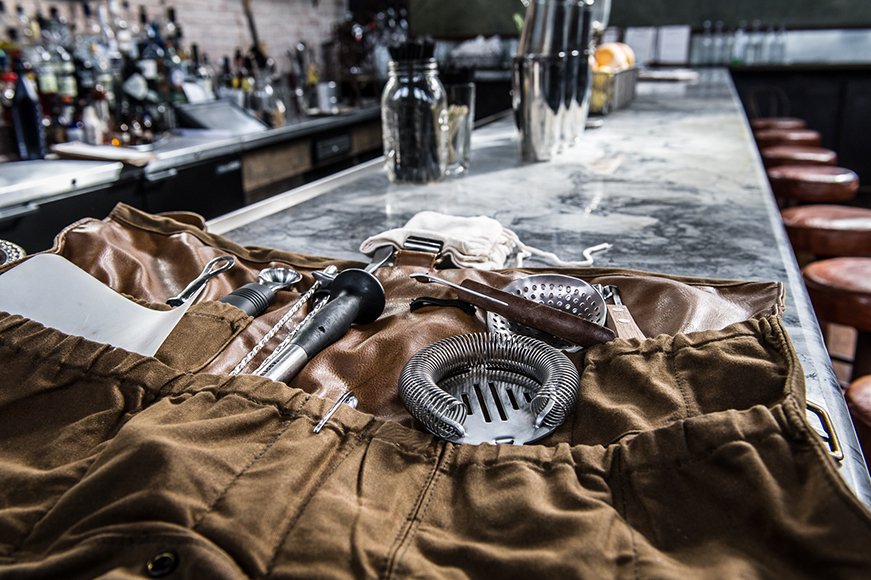 St. Augustine, Florida may never be known as the epicenter of craft cocktails, but travel about five hours north of Miami, and you'll find one of the best new bars in America. Located in an area that was once lined with docks and wharfs during the early 1900s when St. Augustine was a coastal hub for shrimping and boat building, Ice Plant bar sits in a 1920s-style Art Deco building originally used as an ice plant—a factory where ice was made and cut for the local shrimping industry.
Ice Plant honors the coastal city's past while remaining firmly rooted in today's cocktail culture. When owners Ryan Dettra and Patricia McLemore started working with the then-vacant structure in 2010 they knew its history should influence the concept of the bar from the drinks to the interior design. The duo hired designers Matt Snyder and Valerie Backmann and bar manager Zach Lynch to help bring the vision to life.
"We wanted to restore the feeling of walking into an old factory," Dettra says. "To expose all of the original parts of the building and use authentic architectural salvage."
The physical restoration required a major overhaul. Modern elements like flourescent lights, acoustic ceiling tiles and extensive carpeting (the building housed offices from 1994-2005 before sitting vacant) were all removed to reveal the building's original bones. Some aspects of the factory were kept intact, like the giant bridge crane originally used to transport massive blocks of ice, while Dettra and McLemore spent two years sourcing other bits of salvage and antiques to lend a feeling of authenticity to the space. 1900s-era windows, ice signs and various light fixtures were incorporated from these trips to polish the finished space, which now looks and feels like traveling back to the area's heyday.
But Ice Plant offers more than just beautiful design. Bar Manager Zach Lynch brings a local, seasonal and small-batch approach to the cocktails, choosing to make most secondary ingredients (sodas, syrups and juices) in-house and using spirits from small producers like the adjacent St. Augustine Distillery. The menu rotates quarterly, featuring drinks such as the Psychadelic Fur, a blend of strawberries, Fernet, rum and ginger syrup, and the Heart of Gold with local vodka, lemon, Absentroux herbal wine, pineapple shrub and pineapple juice.
Each drink nods in some way to the local culture, and naturally, ice plays a major role in the program. Large 300-pound blocks of slow-frozen filtered water are carved into six different kinds of ice every day to ensure each drink has the perfect cube. "For us, ice is more than a single component of a drink," Dettra says. "Ice or lack thereof affects how you experience a cocktail, so we always want to make sure that our cocktails have the correct dillution and clarity. The visual experience of being in a historic Ice Plant, drinking cocktails with perfect ice is a thing of beauty."